Hello pie lovers, today is certainly that! Yum-O! My hubby actually made this delicious Rustic Chocolate Apple Pie. So good! and perfectly paired with a nice scoop of vanilla bean ice cream…. "Heaven!" Hey' it doesn't need to be a special holiday or the fall to get in the kitchen and bake. Sometimes its fun to get in the kitchen and get all domesticated with a nicely prepared and baked rustic pie. I think that this summer, I'm going to make sure I do some baking with my kids. I think I will have them help me make a yummy cherry pie, and I can't wait to do it.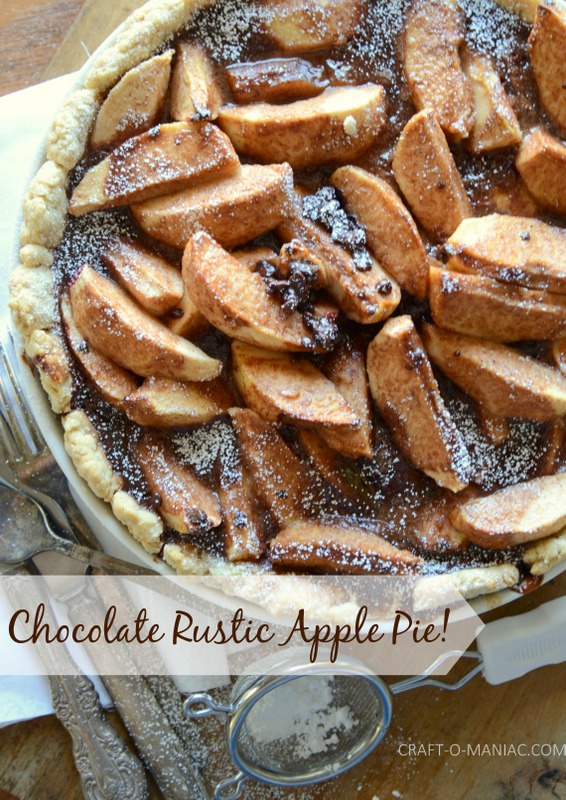 Below is the recipe. Enjoy!
Rustic Chocolate Apple Pie
2015-05-06 12:06:04
Serves 8
A healthy rustic crust, with yummy tender apples, in a chocolate sauce, dusted perfectly with powdered sugar.
Nutrition Facts
Amount Per Serving
* Percent Daily Values are based on a 2,000 calorie diet. Your Daily Values may be higher or lower depending on your calorie needs.
Ingredients
Olive Oil Crust
2/3 cups extra virgin olive oil
2 1/2 cups all-purpose flour
1/2 teaspoon salt
1 teaspoon baking powder
1/2 cup ice water
1 tablespoon balsamic vinegar
Apples and Honey Filling
5-6 apples, peeled, cored, and sliced
3 tablespoons sugar or Splenda
2 tablespoons honey
1 1/2 tablespoons all-purpose flour
1 tablespoon lemon juice
1/4 teaspoon cinnamon
Chocolate Sauce
3/4 stick of butter
3/4 cup chocolate chips
1 cup brown sugar
1/4 cup of milk or heavy cream
Heat until the sugar is all dissolved and everything is melted together.
Instructions
To make crust: Place olive oil in freezer in ice cube freezer tray until firm. Combine all ingredients in a food processor until a smooth ball forms. Refrigerate for one hour. Preheat oven to 350 degrees F. Roll out dough as you would standard piecrust. Bake for 7 to 10 minutes to set crust for filling.
To make filling: Combine all ingredients in a large bowl. Pour filling into prepared crust. Also pour your chocolate sauce all over the top of the apples. Bake at 350 degrees F. for 40 to 55 minutes, or until golden brown and apples are tender. Dust with powdered sugar (optional).
Notes
Enjoy with french vanilla or vanilla bean ice cream.
Adapted from Healthy Desserts
Craft-O-Maniac https://craft-o-maniac.com/